We optimise your visitor flow from A to Z
A visit to the hospital, institution or company starts for the patient or visitor when making the appointment at home and only ends when he or she continues the journey home again. We call this the visitor's journey, or the patient journey, when it comes to healthcare institutions. By deploying our solutions, you can be sure that the patient or visitor is correctly led to and through the location and that he or she has the right information. Technology also simplifies the administrative process, and you can be sure that work can be done efficiently and without errors. In this way, you have an optimal patient flow.
Our solutions are bundled in Logis.P Universe, a modern and open software platform. It supports all the steps involved in the 'visitor's journey' and offers suitable solutions for every type of organisation.
Overview of our solutions
Smart integrations and optimal preparation
The visitor's journey starts when making an appointment.. Dit kan op vele manieren en via verschillende systemen. Als de patiënt of bezoeker vooraf al weet waar hij of zij naar toe moet en welke voorbereiding nodig is, stijgt de tevredenheid. De integratie met bronsystemen en gebruik van een Smart Visit of afspraakherinneringen via sms, whatsapp of e-mail waarborgen een goed geïnformeerde bezoeker en verlagen het aantal no-shows.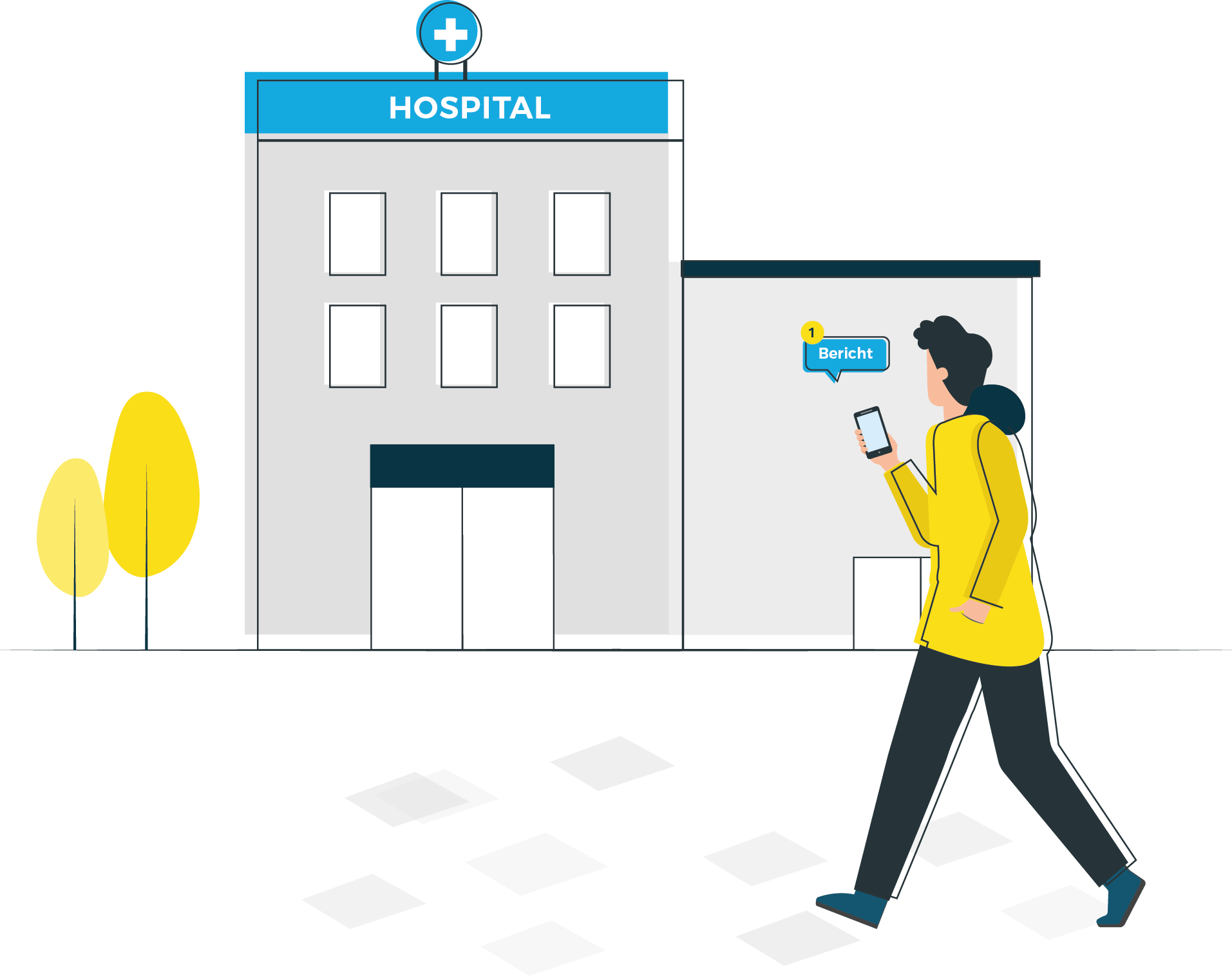 Route information and intelligent call system
An often-forgotten component of the visitor's journey is the physical travel by bicycle, car or public transport to the location, the arrival. The better the information about the trip and/or parking at the location, the lower the stress levels at the start of the visit. An intelligent SMS call system can help you control the inflow of visitors prior to their arrival. A triage or check-in interview upon arrival makes it possible to determine whether the visitor(s) may pose a potential risk (e.g. Coronavirus/MRSA).
Efficient registration and precise check-in
With clear information available in advance, the patient or visitor will know exactly where to register or check in. This can be achieved by means of a central digital service point (digital check-in), a mobile device or at a service desk, if staff support is required. Data can be checked and supplemented or exchanged with the source systems wherever necessary. The patient or visitor will then receive all the necessary information by means of a ticket or mobile device to enable them to complete the 'journey' through the building.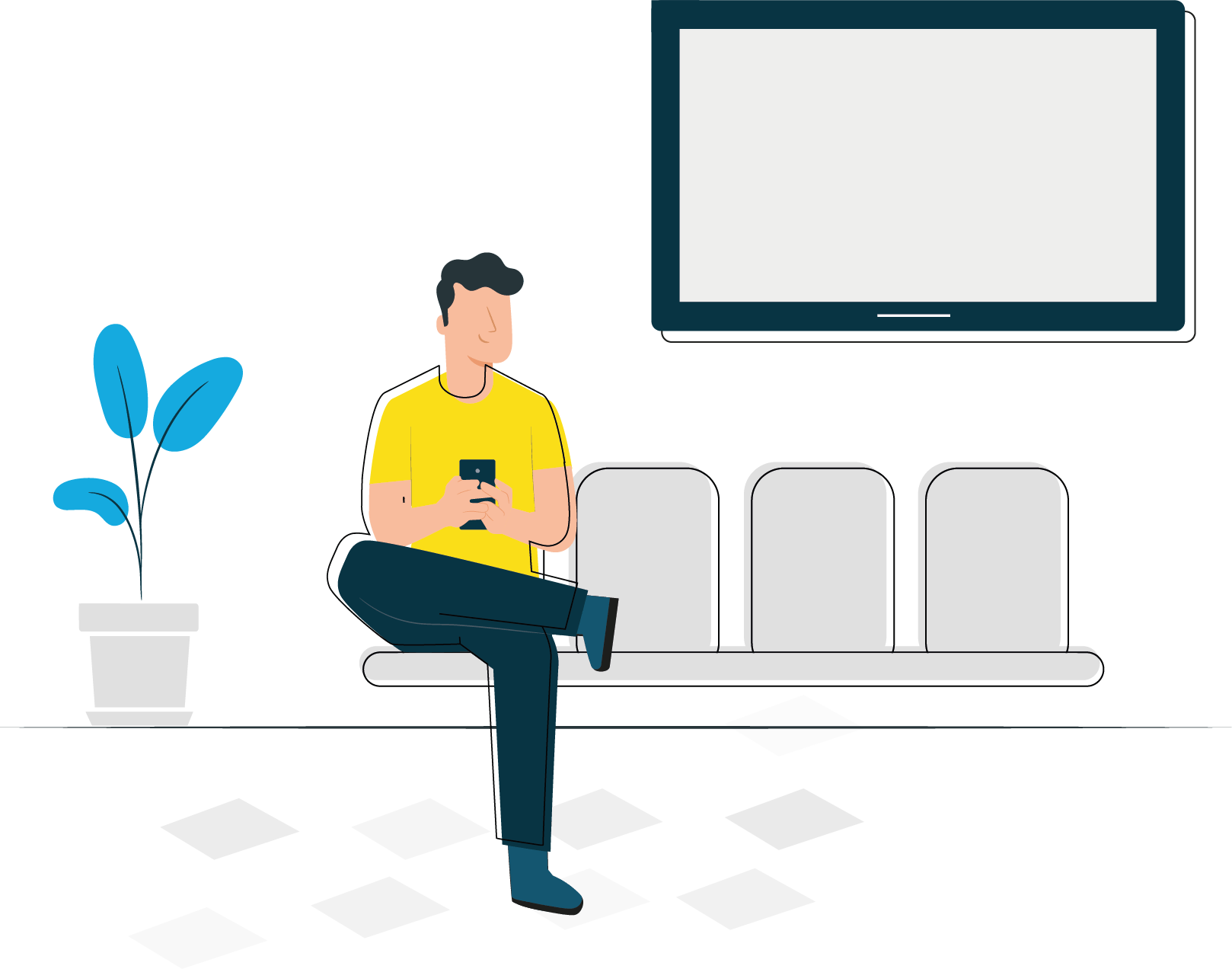 Good information provision to relieve waiting stress
Aangekomen bij de wachtruimte meldt de patiënt of bezoeker zich ook decentraal aan via een zuil of -tablet. Hij/zij krijgt bevestiging of hij/zij zich op de juiste plek bevindt en de contactpersoon wordt geïnformeerd dat de patiënt of bezoeker is gearriveerd. Mogelijke ongeduld of zenuwen van het wachten worden ingedamd door informatie over de verwachte wachttijd via narrowcasting-schermen te tonen. Degene die aan de beurt is, kan persoonlijke uit de wachtruimte opgehaald worden of is op te roepen via de narrowcasting-schermen.
Multiple appointments and minimised waiting times
The patient or visitor will usually return home after the appointment and the required management information can be collected internally. It also routinely happens that more than one appointment is scheduled on any given day or patients are referred to other specialists or functional visits (e.g. blood tests and radiology). It is possible to determine the order of the appointments such as to reduce the waiting times and take follow-up appointments into consideration.
More information
Would you like to find out more about how our solutions work and what their functionalities can do for your organisation? Please submit your details, and one of our professionals will contact you as soon as possible.