We optimise your visitor flow from A to Z
Een bezoek aan het ziekenhuis, instelling of bedrijf begint voor de patiënt of bezoeker al bij het maken van de afspraak thuis en eindigt pas als hij of zij zijn reis huiswaarts weer vervolgd. Met de inzet van onze oplossingen weet u zeker dat de patiënt of bezoeker op de juiste manier naar en door de locatie geloodst wordt en dat hij of zij voorzien is van de juiste informatie. Tevens wordt het administratieve proces door technologie vereenvoudigd en weet u zeker dat er foutloos gewerkt kan worden.
Our solutions are bundled in Logis.P Universe, a modern and open software platform. It supports all the steps involved in the 'visitor's journey' and offers suitable solutions for every type of organisation.
Overview of our solutions
Smart integrations and optimal preparation
The visitor's journey starts when making an appointment.This can be done in different ways with various types of systems. The patient or visitor satisfaction will be enhanced if he or she knows, in advance, where to go. The integration with source systems and the use of a Personal Visit Page or appointment reminders by SMS, WhatsApp and email guarantee well-informed visitors and reduces the number of no-shows.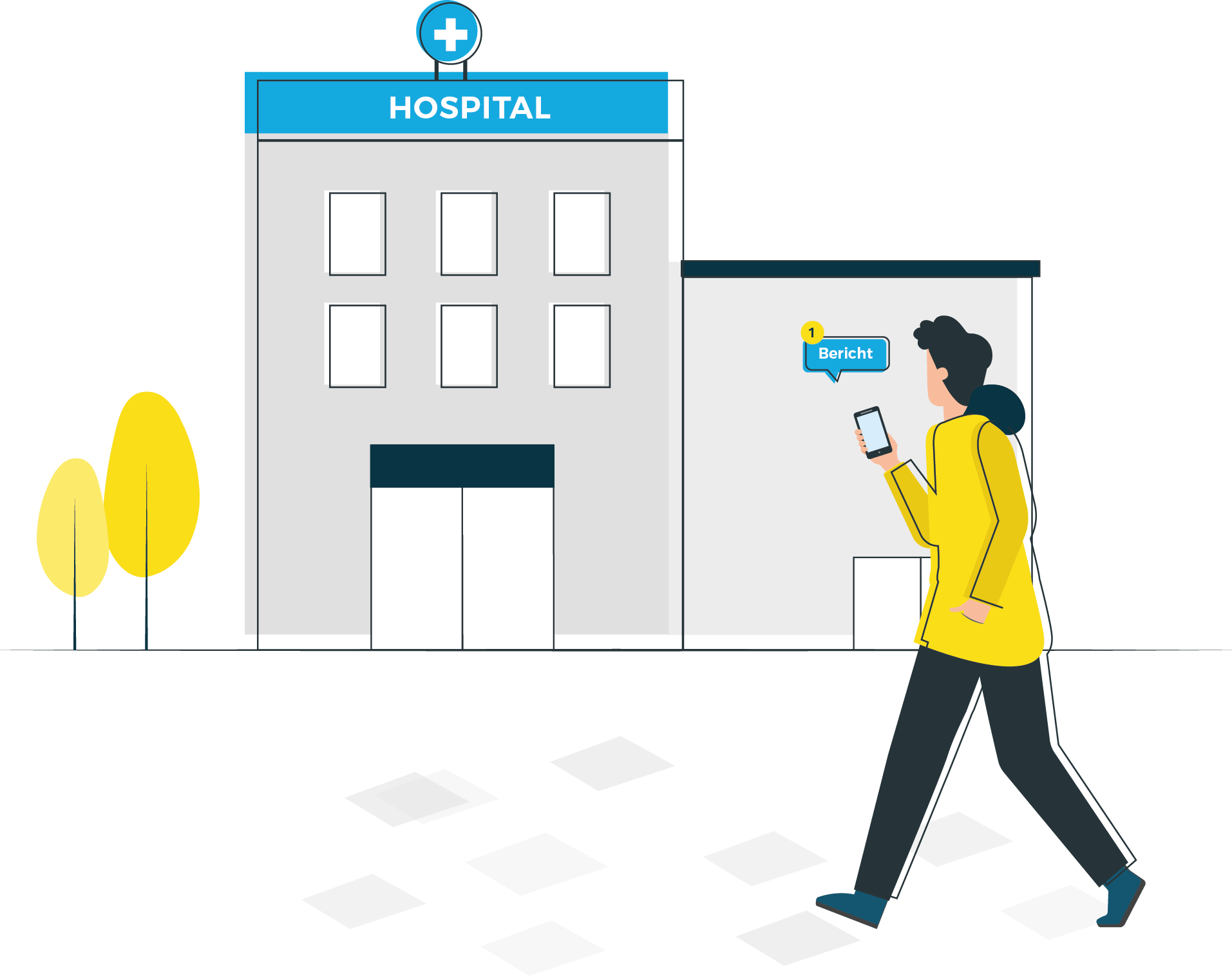 Route information and intelligent call system
An often-forgotten component of the visitor's journey is the physical travel by bicycle, car or public transport to the location, the arrival. The better the information about the trip and/or parking at the location, the lower the stress levels at the start of the visit. An intelligent SMS call system can help you control the inflow of visitors prior to their arrival. A triage or check-in interview upon arrival makes it possible to determine whether the visitor(s) may pose a potential risk (e.g. Coronavirus/MRSA).
Efficient registration and precise check-in
With clear information available in advance, the patient or visitor will know exactly where to register or check in. This can be achieved by means of a central digital service point (digital check-in), a mobile device or at a service desk, if staff support is required. Data can be checked and supplemented or exchanged with the source systems wherever necessary. The patient or visitor will then receive all the necessary information by means of a ticket or mobile device to enable them to complete the 'journey' through the building.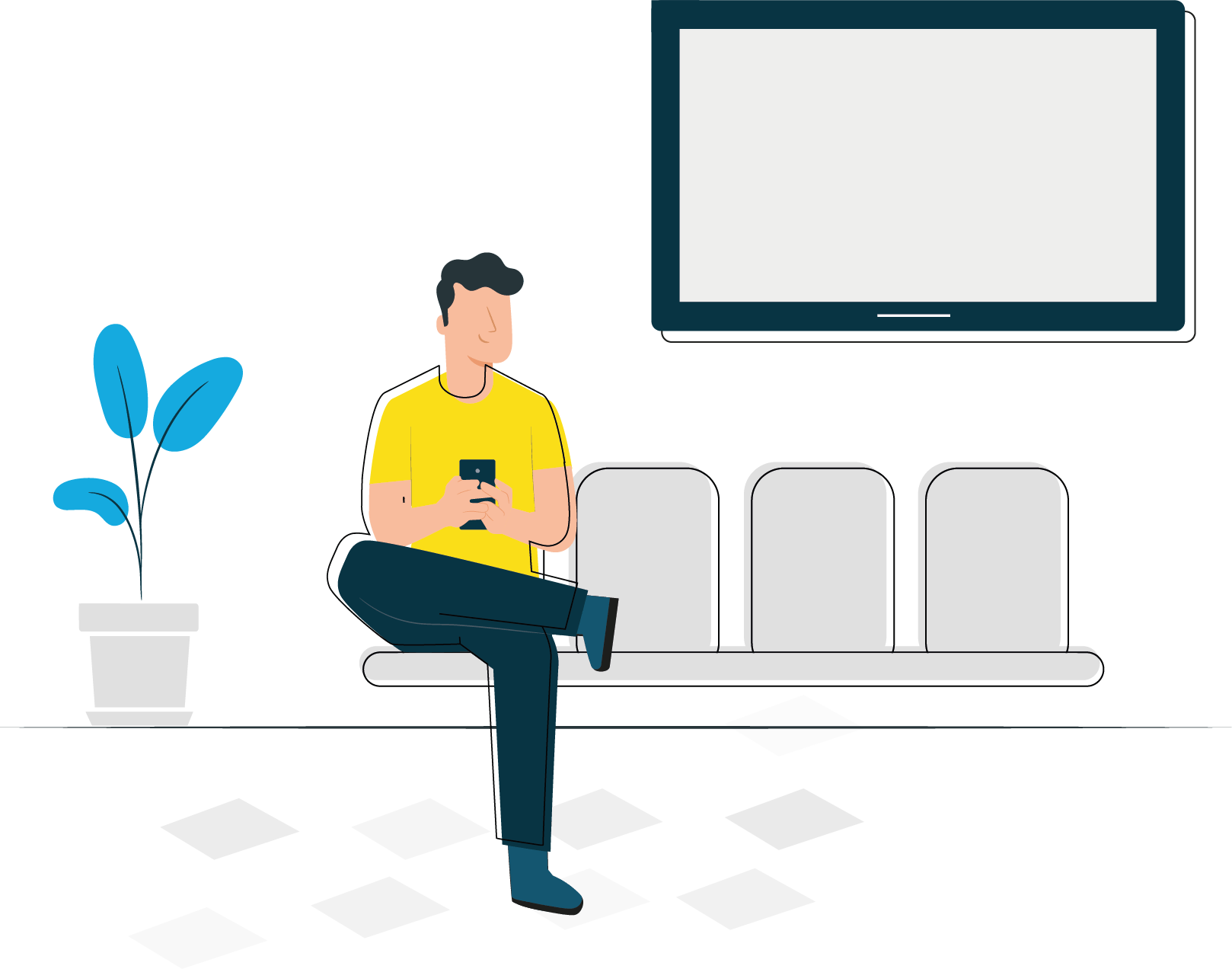 Good information provision to relieve waiting stress
Once the patient or visitor enters the waiting area , they can check in at a check-in point or with a tablet. They will receive a confirmation to establish whether they are at the correct location and the contact person will be notified of the patient or visitor's arrival. Potential impatience or anxiety related to waiting can be managed by providing information about the expected waiting time with narrow-casting screens. The person who is next in line can be picked up personally from the waiting room or could be called in with narrow-casting screens.
Multiple appointments and minimised waiting times
The patient or visitor will usually return home after the appointment and the required management information can be collected internally. It also routinely happens that more than one appointment is scheduled on any given day or patients are referred to other specialists or functional visits (e.g. blood tests and radiology). It is possible to determine the order of the appointments such as to reduce the waiting times and take follow-up appointments into consideration.
More information
Would you like to find out more about how our solutions work and what their functionalities can do for your organisation? Please submit your details, and one of our professionals will contact you as soon as possible.