We optimise your visitor flow from A to Z
The patient or visitor's visit to a hospital, institution or business starts at home, when making an appointment, and only ends when they return home. By implementing our solutions , you can be sure that your patients or visitors will be properly guided to and through the location and that they will have all the correct information at their disposal. In addition, our technology also simplifies the administrative process to ensure you of an efficient and error-free working procedure.
Our solutions are bundled in Logis.P Universe, a modern and open software platform. It supports all the steps involved in the 'visitor's journey' and offers suitable solutions for every type of organisation.
Overview of our solutions
Smart integrations and optimal preparation
De visitors journey begint met het maken van de afspraak. Dit kan op vele manieren en via verschillende systemen. Als de patiënt of bezoeker vooraf al weet waar hij of zij naar toe moet en welke voorbereiding nodig is, stijgt de tevredenheid. De integratie met bronsystemen en gebruik van een Personal Visit Page of afspraakherinneringen via sms, whatsapp of e-mail waarborgen een goed geïnformeerde bezoeker en verlagen het aantal no-shows.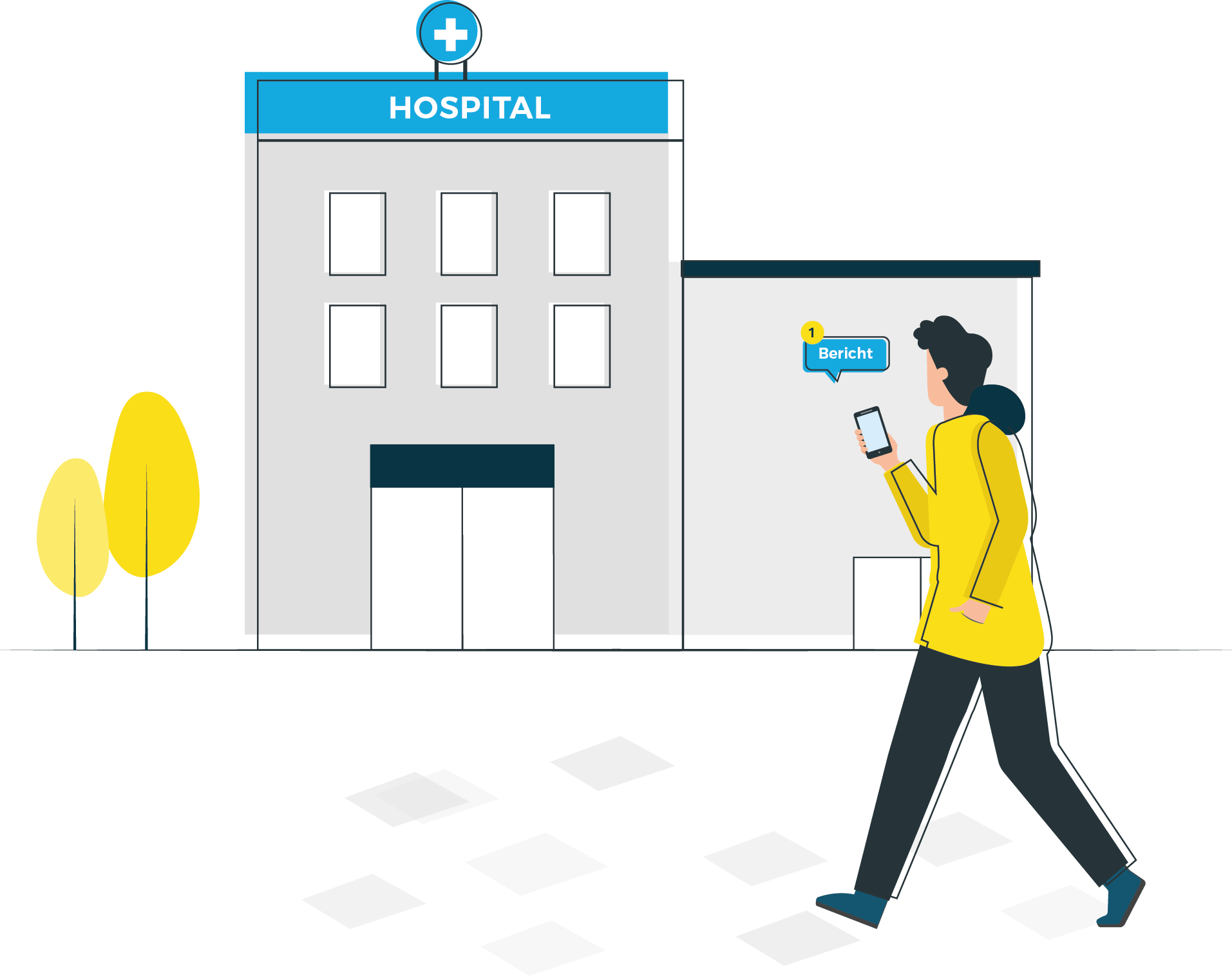 Route information and intelligent call system
Een vaak vergeten onderdeel van de visitors journey is de fysieke reis per fiets, auto of OV naar de locatie toe, de aankomst. Hoe beter de informatie over de reis en/of het parkeren ter plaatse, hoe minder stressvol het bezoek begint. Door een intelligent sms- oproepsysteem kan de toestroom van bezoekers voor aankomst worden beheerst. Via een triage of check-gesprek bij binnenkomst kan worden nagegaan of bezoekers mogelijk een risico vormen (bijv. corona/MRSA).
Efficient registration and precise check-in
Door de heldere informatie vooraf weet de patiënt of bezoeker waar hij of zij zich moet registreren en/of aanmelden. Dat kan via een centraal digitaal servicepunt (aanmeldzuil), mobile device of via een servicebalie als ondersteuning door een medewerker is gewenst. In alle gevallen kunnen gegevens worden gecontroleerd en waar nodig worden aangevuld en uitgewisseld met de bronsystemen. Vervolgens krijgt de patiënt of bezoeker via een ticket of mobile device alle benodigde informatie om de reis door het pand te vervolgen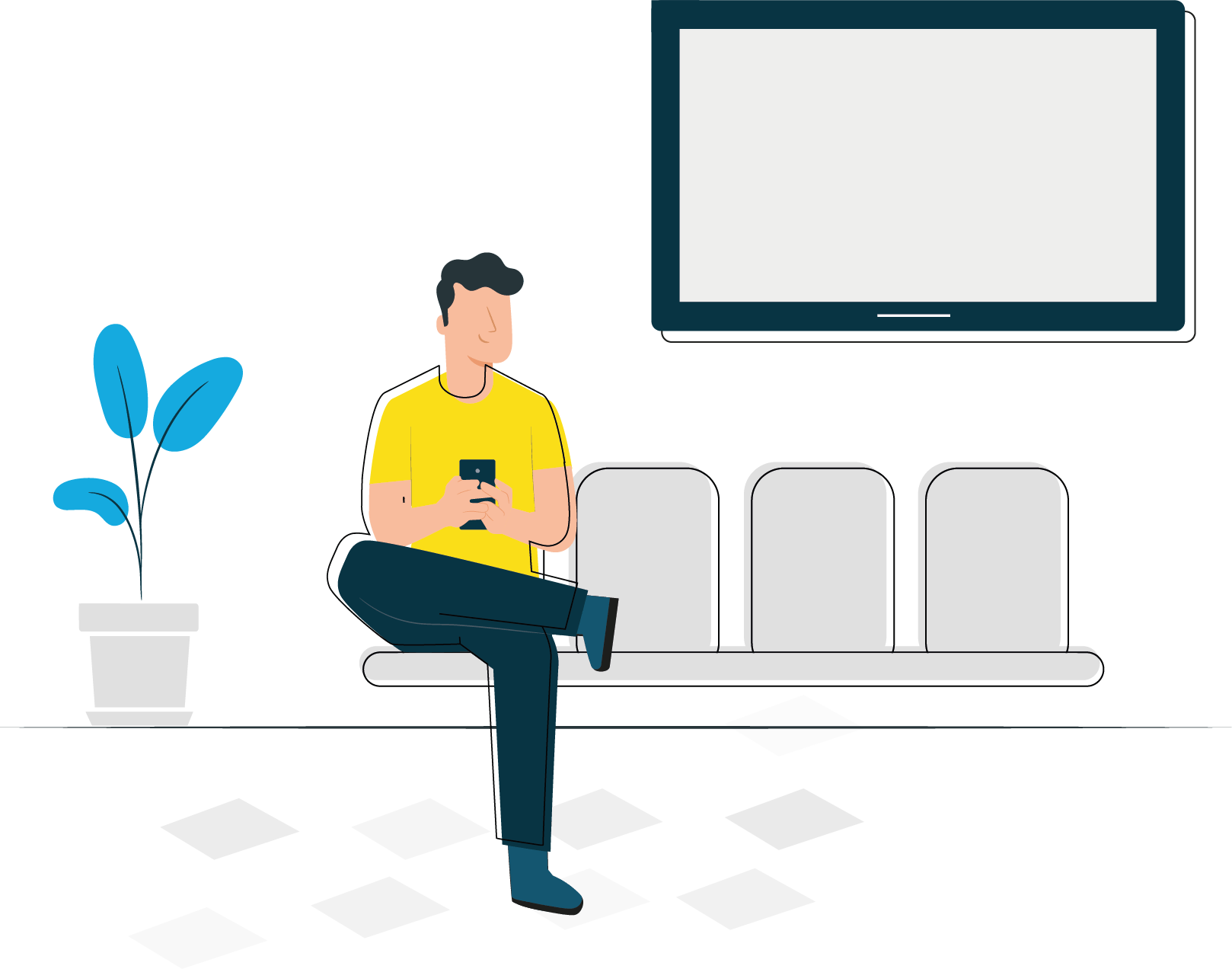 Good information provision to relieve waiting stress
Aangekomen bij de wachtruimte meldt de patiënt of bezoeker zich ook decentraal aan via een zuil of -tablet. Hij/zij krijgt bevestiging of hij/zij zich op de juiste plek bevindt en de contactpersoon wordt geïnformeerd dat de patiënt of bezoeker is gearriveerd. Mogelijk ongeduld of zenuwen van het wachten worden ingedamd door informatie over de verwachte wachttijd via narrowcasting-schermen te tonen. Degene die aan de beurt is, kan persoonlijke uit de wachtruimte opgehaald worden of is op te roepen via de narrowcasting-schermen.
Multiple appointments and minimised waiting times
Is de afspraak voorbij, dan gaat de patiënt of bezoeker doorgaans naar huis en kan intern de benodigde management informatie worden verzameld. Ook komt het met regelmaat voor dat er meerdere afspraken op één dag zijn gepland of wordt doorverwezen naar andere specialisten of functieonderzoek (zoals bloedafname of radiologie). Het is mogelijk om de volgorde van de afspraken zodanig te bepalen dat wachttijden geminimaliseerd worden en rekening wordt gehouden met vervolgafspraken.
More information
Would you like to find out more about how our solutions work and what their functionalities can do for your organisation? Please submit your details, and one of our professionals will contact you as soon as possible.